October 6, 2022, it's the day of the Health-RI symposium in the Jaarbeurs in Utrecht.
If you were there you couldn't have missed us!
Our huge 3mx2.3m banner was definitely an eye-catcher.
Next to the banner our vantage6 stand came with a demo with multiple raspberry pi's and a big team including developers from IKNL, the eScience Center, and Maastro.
First, for those who don't know; what is Health-RI?
"Health-RI is the Dutch national initiative to facilitate and stimulate an integrated health data infrastructure accessible for researchers, citizens and care providers. It will enable optimal use of health data, samples and images, a learning healthcare system and accelerate personalized health."
Health-RI brings all parties involved (e.g. hospitals, research institutes, research funders, government, patient organizations, health insurers, doctors, researchers, ..) together to realize such an efficient data infrastructure.
Because..
Let's be honest;
Healthcare data in the Netherlands is a mess.

It's everywhere, distributed, difficult to share, the data itself is complex, and we have A LOT.
But; imagine the possibilities for healthcare innovations, improvements, and research if we had an efficient data infrastructure.
So, a super interesting event to be for all parties involved because you get to share your ideas, brainstorm with others, and establish connections with other people and groups who all have the same goal.
With vantage6 we take part in this event for the last five years already. It was definitely nice to see some familiar faces, and we even had multiple people coming over to our stand who were enthusiastic on working with vantage6. There were different presentation sessions on for example "International data and sample sharing – in the Netherlands, Europe, and beyond", but most of all we talked a lot. I remember finishing a conversation, looking around, and seeing that all of us were talking to different (groups of) people. That surely shows the interest in our work, and the enthusiasm with which we work on vantage6. We definitely filled the space in front of our banner with ease!
So, what were the banner and demo about?
The banner showed an overall overview of the mechanisms behind vantage6: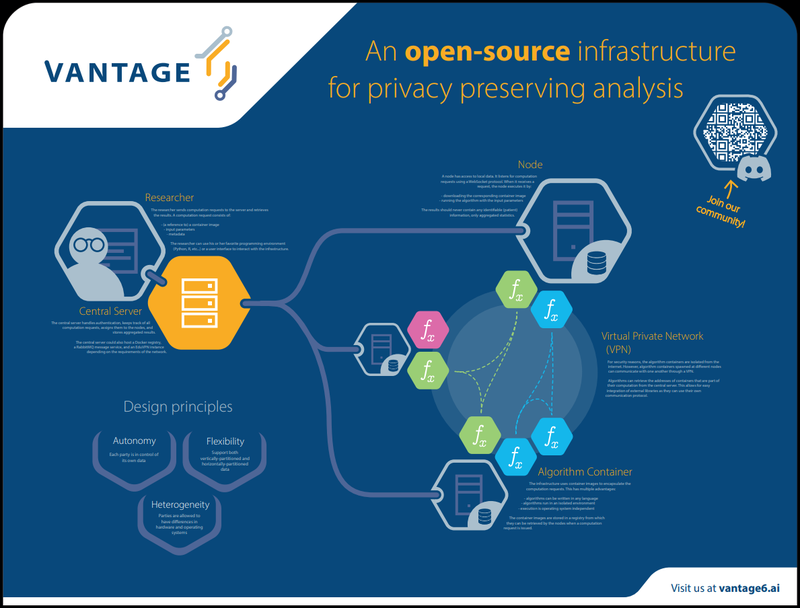 And with the demo we mimicked the situation of having two data stations with vertical data and a central server to question the combined data for which we implemented an algorithm based on the scalar vector protocol.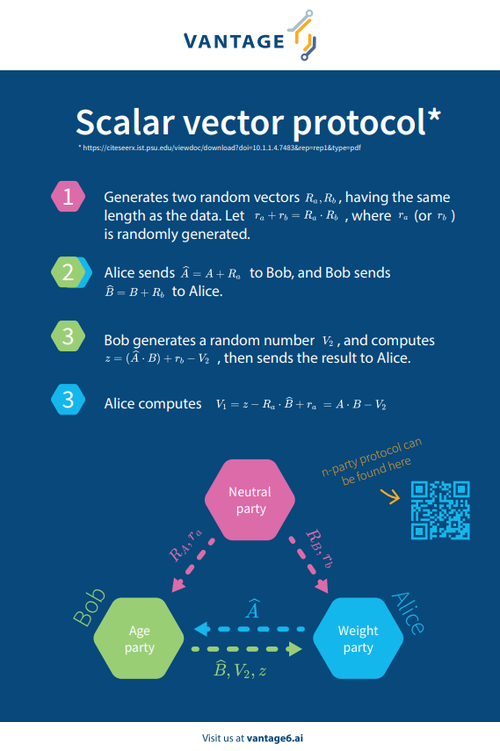 Federated learning algorithms and projects on vertical data in practice tend to be harder to realize than when working with horizontal data. With this demo we wanted to show that even with vertical data there are possibilities out there already.
All-in-all I think we are still far away from a really efficient and integrated data infrastructure in the Netherlands, but I definitely think events like this are necessary to get everyone connected and aligned again. And I think, from a vantage6 perspective, we had a very fruitful day. We gained new insights to improve our software, new ideas for features, new connections, ideas for projects with other parties (like SURF (https://www.surf.nl/), DataSHIELD (https://www.datashield.org/), and the OHDSI community (https://www.ohdsi.org/)), we directed people to our discord channel and website, and last but not least, the snacks were nice as well.
Many thanks to our colleagues from the eScience Center (https://www.esciencecenter.nl), and Maastro (https://maastro.nl/). It's always a pleasure to work with you online, but definitely nice to see you in real-life as well!
If you missed Health-RI this year; don't miss it next year, chances are we will be there again.
---